BOOK YOUR EVENT ON-LINE NOW!
We do birthday parties, private events for organizations, fundraisers and more.
Public Session Schedule and Availability for Private Parties.
Call 937-773-2841 or book online for in-session parties.
---
---
Schedule your birthday parties now for our Saturday afternoon session from 2:00-5:00 beginning October 1st!
As always, we'll be skating on Sunday afternoons from 2:00-5:00 all year long!
Looking for the perfect place for your event? 36 skate club has you covered!
Check the calendar to see what dates are available for a private event. Our in-session parties are available on Thursday Family Night and Sat/Sun afternoons. Saturday afternoon session is open Jan-May and Oct-Dec.
Please fill out and submit the form to reserve your event today!
Please note, a deposit of $25 for in-session parties and a $50 deposit for Private Parties is required after your booking is confirmed.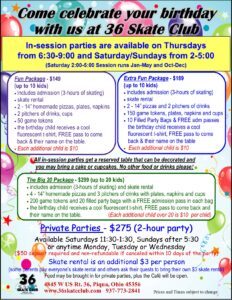 Use this form to tell us about your event!