BOOK YOUR EVENT ON-LINE NOW!
We do birthday parties, private events for organizations, fundraisers and more.
Public Session Schedule and Availability for Private Parties.
Call 937-773-2841 or book online for in-session parties.
---
---
                                       Schedule your birthday parties now for our                                      Saturday Matinees from 2:00-5:00 beginning October 3rd!
As always, we'll be skating on Sunday Matinees all year long!
Looking for the perfect place for your event? 36 skate club has you covered!
Check the calendar to see what dates are available for a private event. Our in-session parties are available on Thursday Family Night and Sat/Sun matinees.
Please fill out and submit the form to reserve your event today!
Please note, a deposit of $25 for Private Parties is required after your booking is confirmed.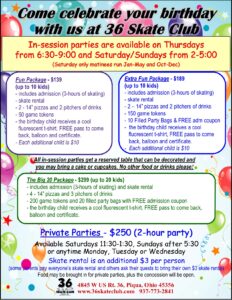 Use this form to tell us about your event!